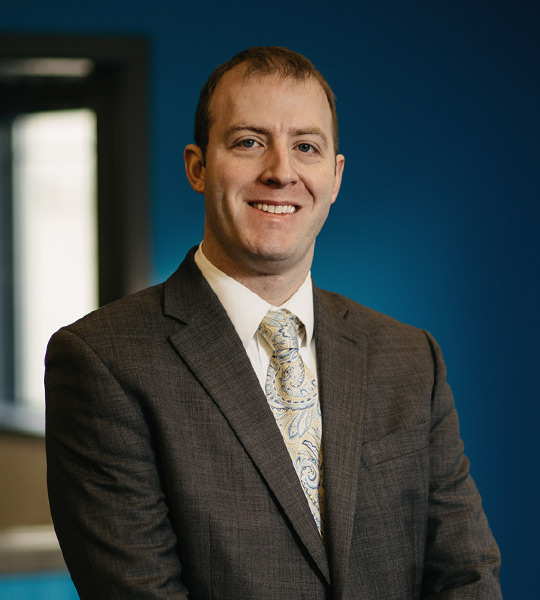 Matthew T. Blum

Matt has practiced law in Washington since 2007, where he started for a civil litigation firm in Spokane, WA. While practicing in Spokane, Matt provided litigation support for a six-week dental malpractice trial that resulted in a $15 million jury verdict for his client. While Matt no longer takes on malpractice clients, and cannot suggest similar results in your case, it is a point of pride for him being involved in such a milestone case early in his career.
Matt shifted his focus to family law in 2009, working for the Vancouver office of Stahancyk, Kent, & Hook, P.C. Matt's calm demeanor and reasoned approach with clients has earned a reputation as an attorney who brings stability to an often chaotic practice. Matt continued his focus on providing family law services when he joined the Law Offices of Carolyn M. Drew, P.S., in 2010.
Matt's practice focuses on providing high end representation for clients in family law cases and estate planning services. Matt is also passionate about promoting accountability for the practice of law, and access to justice for low income clients. Matt served as the president for the CCBA Family Law Section from 2013-2014 and the president of the CCBA Young Lawyer's Section from 2014-2015. Matt's volunteer work with the Clark County Volunteer Lawyer's Program earned the accolade of the 2012 Volunteer Lawyer of the Year, and he regularly receives recognition from the CCBA Volunteer Lawyer Program and the Washington State Bar for his volunteer work.
In 2013, Matt joined the Board of Trustees for the Clark County Volunteer Lawyer Program. Matt served as Vice President from 2014-2016. While serving as Vice President, Matt and other members of the Board of Trustees created the Clark County Battle of the Lawyer Bands, a fundraiser for the Volunteer Lawyer Program to assist low income clients to gain access to legal services. Matt's work has been pivotal in creating the event, and has performed in the event as well, personally raising significant funds for the organization and through the event.
Matt is also a regular contributor for articles in the Vancouver Business Journal, as well the local Clark County Bar Association magazine. Matt has presented to other attorneys on continuing legal education topics, such as succession planning, and has organized countless seminars as president of the CCBA Family Law Section and the Young Lawyer's Section.
By hiring Matt, you are ensuring that you will have an attorney who not only knows your case, but also knows the law, and will present your case to the court in the best possible light. You may not need an attorney like Matt in every case, but when you do, you will be thankful to have an attorney who is so dedicated to his clients and practice.
Education
Gonzaga University Spokane, WA. B.A. in Philosophy, cum laude.
University of Oregon School of Law Eugene, OR, JD.
Merit Scholarship Recipient 2004-2007
Professional Affiliations
Washington State Bar Association, admitted 2007.
United States District Court, Eastern District of Washington, admitted 2008.
Clark County Bar Association, Family Law Section.
Clark County Young Lawyers
Community Involvement & Awards
Matt was recognized with the award for the 2012 Volunteer of the Year by Clark County Volunteer Lawyers Program.
CCBA Family Law Section President 2013-2014
CCBA Young Lawyer's Section 2014-2015
Clark County Volunteer Lawyer Program Board of Directors 2013-

Vice President 2014-2016
President 2016-
Personal
Matt enjoys spending his free time with his wife Elizabeth. Matt also enjoys writing and performing music, and has played bass guitar and electric guitar in various musical groups throughout his career.
Matt enjoys staying active by playing pickup basketball games. Also, Go Ducks, Go Zags, Go Blazers.